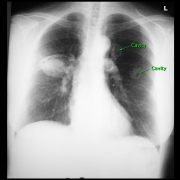 Start viewing part 1
Start viewing part 2
Chest
Given the frequency with which radiology is used to investigate chest pathology, the tutorial has been split into two parts. The first covers an approach to reading a chest x-ray, then progresses to the normal chest CT and then discusses a variety of pathological appearances, before moving on to the appearance of specific clinical conditions.
The second part continues the clinical perspective and shows how the pathological appearances come together in conditions such as heart failure and lobar collapse, and ends with a guide to differentiating the causes of masses on the chest film.
This tutorial provides a solid introduction to radiology of the chest and is complemented by the cardiovascular tutorial and chest pain and trauma tutorial.
Chest 1
Normal Chest Film
Normal Variations
CT Normal Chest
Pneumothorax
Pleural Effusions
Airspace Consolidation
Interstitial Changes
Silhouette Diagram
Lobar Consolidations
Bronchopneumonia
Abscess
High-Res CT
Pulmonary Fibrosis
High-Res CT and CT Summary
Chest 2
Heart Failure
Collapsed Lung

Individual Lobes
Bilateral Collapse
Plate Atelectasis

Round Lesions

Overview of Coin Lesions
Metastasis
Wegener's Granulomatosis
Arteriovenous Malformation
Tuberculosis

Mediastinal Lesions

Goitre
Thymoma
Hodgkin's Lymphoma
Bronchial Cyst
Hiatus Hernia